Happy Happy Friday!!! Welcome back to our weekend party!!
First off, I want to say thank you to my wonderful co-hosts who shared the party throughout the blogosphere this month:
It's their last week of co-hosting and I think they did a phenomenal job with everything. Thank you, ladies!! If you're interested in co-hosting the blog party next week, I have room! I am looking for 3 more people to join me in spreading the blog party out there. Only $4.00 to join up for 4 weeks of fun plus 50% off your ad space! Email me at thewonderingbrain@gmail.com for more information.
Let's SHOW OFF those awesome posts from last week's party:
Michelle loved This Silly Girl's Life: "
I have to vote for This Silly Girl's Life's recipe, Greek Panzanella Salad. I just made it and it is absolutely amazing! Definitely a new favorite! The pickled red onions and the homemade garlic croutons are so easy to make and so delicious!!"
Stacey thought Improving Me with Keia Lee was phenonmenal: "Since getting the opportunity to become a SAHM, I have been really trying to find the time to figure me out, by figuring out new goals for myself...and maybe even be able to at some point be able to bring some money into the family by working from home. But I know that I have to work on the goals first."
Our other Michelle enjoyed Chaos with Curve this past week: "I raised 3 stair-step boys (16 mos. apart) and can so relate to this. As a mother, when you first walk in on a scene such as this you're furious. But later on it'll become a memory and will forever bring a smile and a chuckle to your day."
Sandra found Sew Crafty Angel's post amazing: "She posted some super cute aprons recycled from jeans and shirts. I really like the one with the sparkly jeans pockets remade into the front of the apron with a cute denim ruffle around the whole thing. You really need to check these out!"
I loved the post from The House of O. I currently have a blended family and the advice was spot on!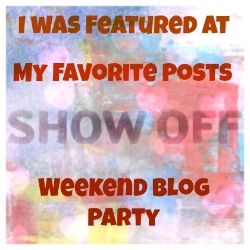 Congratulations to all our featured bloggers! Grab our feature badge and SHOW OFF to your readers that you've been featured with us!
Congratulations Natasha! Watch for my post on Natasha this weekend. Want to be The Wondering Brain's Top Fan and receive a featured post? Like Me on my Facebook page and visit often!
Ready to party? I am!! Here's some general guidelines before we begin:
Link up your favorite posts. It doesn't matter which one, just make sure it's family friendly!

Follow your host (that's me! The Wondering Brain)

Leave a comment if you'd like them to follow you too

Visit at least 5 other bloggers

Show them your blogger love by leaving a comment if you'd like them to follow
Remember, it's not a party unless you mingle, so mingle around and make some friends!
Jessica Wife , Mom, Career Person, and Doctoral Student The Wondering Brain